Details
https://www.maje.com.hk/en_HK/accessories/accessories-shoes/accessories-shoes-pumps-sandals/223filostuds/MFACH00574.html
Select your size
Size

Use the guide below to match your measurements to the sizes we use for our garments.

34

XS

24

-

36

S

26

1

38

M

28

2

40

L

30

3

42

XL

32

-

Size match

82

62

90

86

66

94

90

70

98

92

76

104

96

82

110

Bust

Waist

Hips

90

106

94

108

98

109

104

110

110

112

Hips

Leg length
Product Actions
These flat leather sandals with an ankle strap and delicate studs and rivets will flawlessly complete your summer outfits.

Ref: MFACH00574

• Studded leather sandals
• Double strap to wrap around the ankle
• Clover logo charm

Do not wash
Do not bleach
Do not iron
Do not dry clean
Do not tumble dry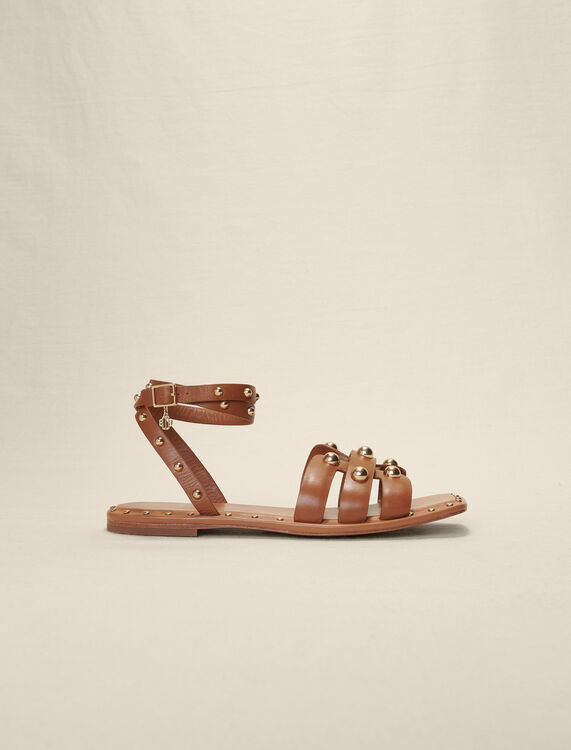 Description
These flat leather sandals with an ankle strap and delicate studs and rivets will flawlessly complete your summer outfits.
Ref: MFACH00574
• Studded leather sandals
• Double strap to wrap around the ankle
• Clover logo charm
Care instructions
Do not wash
Do not bleach
Do not iron
Do not dry clean
Do not tumble dry
What size are you?
Use the guide below to match your measurements to the sizes we use for our garments.
34

XS

24

-

36

S

26

1

38

M

28

2

40

L

30

3

42

XL

32

-

Size match

82

62

90

86

66

94

90

70

98

92

76

104

96

82

110

Bust

Waist

Hips

90

106

94

108

98

109

104

110

110

112

Hips

Leg length