Maje and the environment
Maje is celebrating its 20th birthday.
Time has flown by quicker than we could ever have imagined. Now, it's time to take a step off the beaten track. A first step towards more sustainable fashion.
We want to imagine the future by looking ahead and around us.
Here, we will tell you with humility, honesty and transparency what we are doing and what we are committed to doing for each new collection and new season. It will be our way of moving forward, step by step.
Now: "First Stone"
In 2019, Maje launched "First Stone". A first step on the road to truly eco-friendly fashion.
"First Stone" is first and foremost a new way to make our jeans. Why jeans? Because they are the item of clothing which causes the most pollution and which must therefore be dealt with urgently. Fading one pair of jeans requires up to 75 litres of water. Now, at Maje, we use an eco-friendly process* which allows us to significantly reduce the energy and chemicals used, and to reduce water consumption by up to 95%.
*Using Jeanologia technology.
We have also started to use recycled wool in our collections and only use faux fur.
2019 Autumn-Winter Collection
Eco-wash jeans: 95% of the collection
Recycled wool coats: 47% of the collection
Faux fur: 100% of the collection
To extend the lifespan of clothes and encourage reuse of pieces no longer worn, we have joined forces with Vestiaire Collective. This is essential in our minds: more reasonable consumption to promote more sustainable production.
And when we're talking about change…
In 2018, Maje moved premises. We took up residence near the Louvre museum, in a building renovated in accordance with the French High Quality Environmental Standards. The very foundations of the brand, our headquarters, are now more eco-friendly.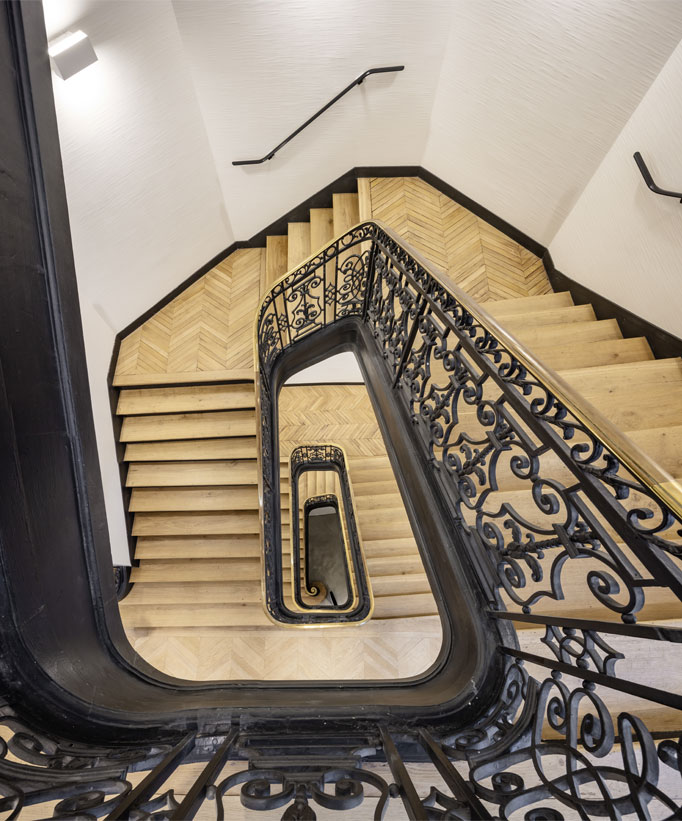 The future
We know that there is still a lot of work to be done. Cotton, viscose, packaging and transport are already projects for future seasons. We want to develop a sustainable approach step by step.
2020 Spring/Summer Collection
Eco-wash jeans: 100% of the collection
Organic cotton T-shirts: 70% of the collection
FSC or EcoVero viscose: 5% of the collection
Recycled polyester: 5% of the collection
And elsewhere
We have learned what real commitment is from people coming from a variety of backgrounds. Far from the fashion world, in contact with several associations like Le Mécénat pour la chirurgie cardiaque, Women for Women International, The Red Cross, Amnesty International and the SPA. Because they are relentlessly working for causes that we deem to be essential, we follow and support them.